LUEUR VERTE | ROCKIN' SUMMER - An Interview
For over 10 years Lueur Verte has been a fixture on this scene with such stellar hits as his 2013 EP 'Crystalica' EP amongst others. The recent collaboration between none other than noted Synthwave O.G Miami Nights 1984 with the track 'Tempesta' received some significant playlist numbers following a generous boost by Synth stalwarts NewRetrowave and subsequently after some good traction on the genre specific airwaves of this world followed.
As an Artist he keeps very much to himself allowing his music to do all the talking and the respect he's garnered is unquestionable even setting up a Record Label with none other than James Kent (Perturbator). With such a lofty pedigree you'd be forgiven for thinking that he's traversed the globe bringing his unique much loved sound to the masses but...NO! He plays his FIRST GIG EVER in Spain this September which was a huge surprise and one no doubt welcomed by anyone with even a passing interest in this genre,
Forged caught up with the Maestro recently and we're delighted to share it, read below!
Let me start by thank you for your time today with Forged in Neon, I've been a fan of yours for quite some time so it's a thrill thank you.
Thanks a lot Ashley! I appreciate your words, it's a pleasure to do this interview with Forged in Neon
Congratulations on the new single with Miami Nights 1984 'Tempesta' it's certainly seems to have been warmly received, how do you think the release went overall?
Thank you yeah I had some very nice feedbacks, quite a lot of people told me that it reminds them of the early days of Synthwave. This is exactly the same feeling that I got whilst making the track, it's like a tribute to the golden era of Outrun music. I think that I have chosen the wrong timing for the release of 'Tempesta', it came out on December 17th 2021 but as it was the holiday season, it didn't get the attention of that many people unfortunately...until it was posted on the NRW channel in January 2022. The track seems to now get less and less attention and it's not being streamed as I expected compared to some of my other tracks sadly, maybe this will change in the future who knows?
How did the collaboration with Miami Nights 1984 come about?
I started composing this track in 2020 during the Covid lockdown. It took me quite a while to finish it as you can imagine (I like to take my time haha). I had the idea to include a synth solo on it and I wanted Miami Nights 1984 to do it. I have always admired his work, he's a legend and a pioneer in the scene, he was one of the few artists who inspired me when I was starting making Synthwave music back in 2011.
MN84 and I have a good friendship since many years so it was not difficult to reach out to him for a collaboration on Tempesta. He liked the track and was ok for doing a solo on it. The process of the collaboration took time and was a bit complex because I'm very strict and picky when it comes to what I want for my music. I'm also not very used to do collaborations on my own tracks so it was a bit difficult to handle. However I'm pretty happy with the result and how we can feel the MN84 vibe in the track. This collaboration with Miami Nights 1984 was on my wish-list for a long time.
Tell us a little about your creative processes, how long does it take for you to lay down a track?
I rarely work on music, I used to be way more productive when I started to produce but it's been years since I don't create music very often to be honest. I like to create when I feel like I want to, I don't like to rush. It's more like a 'from time to time' hobby. However I have produced some tracks very quickly, if I remember well I think I have composed my track 'Malibu Sunrise' in just a day! Some other tracks like 'Trinity' took me a year to be finished and 'Tempesta' took almost two years…I was just rarely working on them, I like to let the track 'breath' so that I have some fresh new inspirations and ideas.
For the benefit of those who're just discovering you, tell us a little about how Lueur Verte came to be?
I have always loved to listen to 80s music and love everything about that era, the fashion, the music, the cars, the designs etc… I think around 2010 I was surfing on Myspace when I found some profiles with a very retro aesthetic, there was also some music with it, it was some kind of electronic music with some 80s vibes. The Valerie Collective, Futurecop!, Minitel Rose, Kavinsky (which I already knew) etc.. I was amazed by all of that, I found also on Youtube a bunch of profiles with a very 80s aesthetic, sharing retro electronic music, the Neros77 channel was part of that and it was super cool to see 80s movies footage being used with this music.
As I always loved to express myself in different form of arts (I used to draw a lot, making graffiti and design), making music just came in as a natural path to me. So I started playing around with GarageBand to express my love for the 80s and the nostalgia. I composed my first track 'Space Rider' in 2010-2011 and uploaded the track on Youtube to get some feedback. I had no idea that my music would get noticed and that I would have comments from people around the world. It was really encouraging so I started to create more music and opened a SoundCloud account.
I had met a community on Facebook and not long after a group named 'Synthetix' was created, it was a gathering of the Synthwave community of that time. It was very niche and underground, less than 30 artists worldwide maybe at that time?! It was nothing compared to how it is nowadays. Still crazy to see how it has evolved and how some artists have grown very big.
What would you say is the most distinctive aspect of the music you create?
I would say that the most distinctive aspect of my music are the melodies that I create for my tracks. I try to create recognisable tracks, for me the melodies are the most important thing in the composition, they have to be memorable. The emotions and the feeling of nostalgia are very important in a Synthwave track. The composition in general is way more important than how good technically your track can sound, that's my opinion.
I'm probably about to mine your mind with respect to this one question but what would you say is the most cherished memory of your career to date?
I had some very cool moments during my career, music made me able to meet amazing people all around the world. One of the most cherished moment was the first meeting in real life with my good old time buddy Perturbator. I have met him at his concert in Lyon in 2019. We were good friends since 2012 but we never met. So I had the opportunity to meet him at this concert and it felt really heart-warming and unreal to be able to meet in real after all these years of internet friendship.
Also when I watched the world premiere of Kung Fury during the festival of Cannes in 2015 and I had a chat after the movie with David Sandberg, the director. He told me that Aphasia Records, my label has inspired him for the movie. It was really cool to hear that from him!
Last but not least, was when I went to the cinema to watch the horror movie The Wretched, and when I heard my remix of Joypopp's 'Desire' as the opening scene music, also seeing my name in the credit of the movie was pretty rad! I'm quite proud of this knowing that the movie did a crazy box office run in USA and stayed number 1 for weeks!
Of course, for those who deep dive you also founded Aphasia Records France which was also co-founded by The Perturbator back in 2012. Running a label is a crazy amount of work. How do you find the right balance between doing that, your own creative output and finding time for yourself most importantly?
Yeah, well I was focusing on the label for many years and I almost forgot about my own music to be honest. It was really cool to help and support all the artists featured on Aphasia but I had difficulty to be able to produce some music, I don't know why, the past years I have really had an issue with productivity. It wasn't a lot of work with Aphasia though, it was pretty chill, but I'm bad at multitasking so it was somehow just less easy to focus on my own music.
That's maybe also one of the reasons why I have released very few music during the past years. Since Aphasia Records is not active anymore, I focus now mainly on my music, I use the label to release my own tracks, and I like the idea to focus only on my own career now.
If there was one thing you would change about the music industry, what would it be? Why?
I think the consumption of the music nowadays is very weird, people always want more, they are craving it like food and they don't understand why some artists choose to not release music regularly. I have a different philosophy because for me making music is like an artist who paint a canvas, they do it when they feel inspired, when they feel creative and motivated, if they are happy with the result they can share the canvas to the public and sell it. It's the same for me, I do music not in order to make money but in order to create something that I would feel proud of to share. It all started like that.
You know, back then in the Synthwave scene making money with our music seemed quite surrealist and making a living out of it was definitely unrealistic. I know that record labels can have a total different opinion than me, music is their business and job. With Aphasia Records I have never pushed any artist to release music, they did what they wanted and were free to leave if they wished. It was more like a collective with a nice and friendly atmosphere, evolving and supporting together.
Of your entire discography to date what is the one track you're most proud of? Why?
I'm hesitating between 'Trinity' or 'Tempesta', both tracks took a lot of time to finish. 'Trinity' was my first attempt to do Cyberpunk music, I wanted to make something which hits harder but which keeps melancholy and stays melodic. Tempesta has been really exciting to work on, working with MN84 has always been a wish of mine.
Who are you listening to at the moment?
It changes all the time! I really can't tell, but I mainly listen some 80's stuff. I don't listen to a lot of electronic music though, beside Synthwave. Right now, while writing this I'm listening to some Italo Disco.
What do you do to wind down? Do you even get some chill time?
I have a full time job and work from home. I rarely use my free time for making music though…Wasting my time on the internet or on my phone are sadly parts of my bad habits. I love online shopping, doing graffiti and going to thrift stores and retro-gaming shops. Beside that I love to spend time with my cats!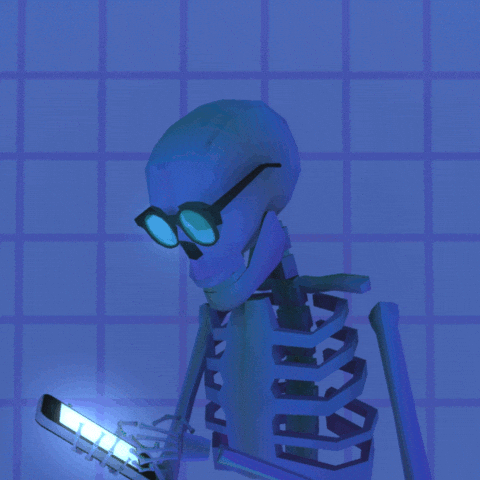 You've been on the scene for quite some time, you've seen the evolution of Synthwave to a degree, how do you feel your own sound has developed over time?
Yes, I have seen it all haha. I think it's pretty interesting to see how the music also evolved in the scene in general. My music is more mature in a way now, I have learned a lot of things over time and I'm also trying to make better tracks each time. Back then I was able to work without thinking too much but now it's a bit of a struggle with myself. I have some moods and times where I will be more into some kind of music, which will influence me on what I want to compose.
What do you enjoy most about being a musician?
I really like to express myself with arts in general but music is really one of the best way to do it. The possibilities are immense and the satisfaction at the end is very rewarding. I like the freedom of being able to compose whatever I want. It's super exciting when you release some new music and you are waiting on the feedback from your fans, it's amazing to see that there's people all around the world who appreciate what I'm doing and who can understand my work. I'm very grateful for that.
What would you say was the biggest problem you encountered whilst on your journey in music?
I think there's many haha but as I'm a complete self taught artist and that I never had any knowledge about music or music production, I struggle a lot sometimes to be able to compose a track, from the inspiration side but also about my skills and abilities. I don't really have a control over my skills, so it's more difficult for me to come up with something that I would be satisfied with. Music production is not that fun for me, it's more of a struggle haha, it's a complicated process which takes time and patience and some good luck too.
The one movie you'd watch over and over again?
There's many classics movies that I love! I always loved The Goonies as a kid, I love everything about this movie! There's something fascinating in that Astoria pirate story. I would not mind to watch it over and over I guess. I love 80s and 90s movies in general, from the blockbusters one to the cheesy karate action movies. Just to name few of the movies that I like: Scarface, Cobra, Terminator, Top Gun, Dune (1984), Stargate, The Goonies, Rocky (saga), Metropolis, Jurassic Park and many more!
Can you tell us a little about any current and future projects you have in the pipeline?
I have the project to finally work on an album. I really like the format of EP though, I think making an EP of 5 tracks could be sometimes more effective and more appreciable sometimes than a long album.
Making an album is really something that I want to do, it's very challenging for me. It has to be my best work so It's quite scary for me to do. I already know how many tracks I want for it and I know what kind of music I want to make for it. I'm really pleased to announce that I will play my first gig ever on September 17th (my birthday haha) in 'Ona Electronica' Synthwave fest in Badalona, Spain! I will share the stage with other great artists from the scene, it's gonna be very new for me but very exciting at the same time!
A message to your fans?
I'm really grateful to all the people and artists who support me since many years! I have met a lot of super cool people in the scene during all those years and I'm always amazed to see how it all started. I'm really glad and proud to know that there is thousands of people from all around the world who listen to my music. I'm also very thankful to all the fans and people who understand and are not angry at me for not releasing music that often.
A very big thank you to all the people who bought my music, vinyls, CDs etc..this means a lot to me. Making Synthwave and being involved in that scene for so many years is one of the best things that happened to my life and I'm forever thankful to all the people who are part of this journey with me. I'm counting on my fans to come to see me at 'Ona Electronica' fest in September, would be a really awesome birthday gift!
Do please consider supporting LUEUR VERTE via the links below | YOU CAN MAKE A DIFFERENCE